More Star Wars Marketing madness coming next year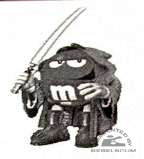 Gigantor live action teaser trailer
So Spectrum 11 is out. Here is a step by step look at
the making of the cover
Is this the kind of step by step thing you would like to see on this journal?
Personal goal of mine to be included in Spectrum 12 next Nov. Wish me luck.
And because I sympathize in the hatred of leaf blowers, the fabulous, Julie Newmar
I'm a little surprised I didn't get any comments about my Fett animated thingy..hmm.